Wednesday, August 29, 2018
CPI enters the world of Collaborative Robots
Carbide Products, Inc. purchases its first robot, Universal Robots UR3
The Carbide Products, Inc. (CPI) management team recently visited an open house at Air Hydro Power (AHP) in Lexington, Ky. Our mission was to investigate the possible integration of Collaborative robots into our manufacturing operations. AHP is a distributor for Universal Robots (UR), providing local sales and technical support. UR, Denmark is a subsidiary of Teradyne, Boston MA, USA. UR's mission, as we understand is to make cost-effective, flexible, safe and easy-to-use collaborative robots available to the world so that anyone can program and deploy a helping hand on the shop floor.
At the AHP open house we witnessed an amazing demonstration of a UR 6-axis cobot where the operator setup and programmed the cobot to perform a pick and place task from scratch in less than 10 minutes. We immediately requested a personal demo at CPI so that the rest of our manufacturing team leaders could see it in action.
The demo time was set. Upon arrival the UR tech setup the robot, plugged it in and programmed it in less than 20 minutes. Once the basic demo was complete he handed off the control to Peyton Strippelhoff to demonstrate just how easy it is to program. Within 10 minutes, with no prior experience Peyton had programmed and run a similar task with almost no intervention from the UR tech. Once our team saw its capability and simplicity it became apparent that this is something we must have. We immediately placed an order for a UR3, the smallest of the three currently offered. It has a reach of 500mm (19.7") with a payload of 3 kg (6.6 lbs.) and weighs in at only 11.2 kg (24.7 lbs.). Our mission is to use the UR3 as an entry point into the world of work automation. We will deploy it in the shop for machine tending, laser marking, automated inspection and other repetitive or mundane tasks. Our idea is to free our team members so that they can spend more time on creative and value added endeavors.
Evan Strippelhoff has been assigned the task of Cobot Integration. He will be our on-site specialist aided by our manufacturing team, Universal Robots and the AHP team.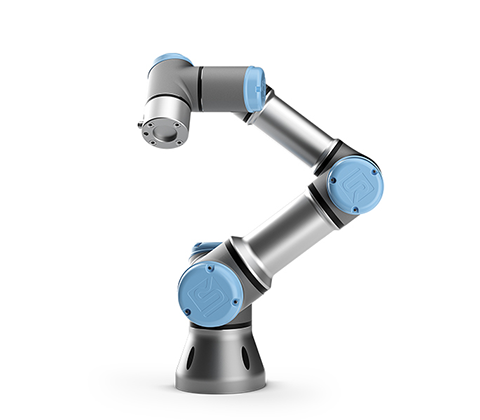 UR3
Look for more news, pictures and video in the near future as our team sets up our UR3's first task...
---